Adaptive Suspension Damping Improvements
This update will only be applicable to folks who have bought the newest iteration of the Model S or Model X that feature the Raven motor along with new adaptive suspension. The update looks to improve ride comfort at high speeds. Both Standard and Sport modes feature an improved algorithm that will adapt better at speeds above 100 mph (160 km/h).
---
Beach Buggy Racing 2 Controller Support
Instead of using the steering wheel, you will now be able to plug in up to two controllers to the front USB ports and play Beach Buggy Racing 2 by yourself or against a friend.
---
Media Volume Improvements
There is now a feature that will turn down the volume of whatever media is playing in the car when you open the door. This allows for easier conversations when a passenger is getting in or out of the car. It also stops you from blaring your guilty pleasures for all to hear when you open the door.
Additionally when using media is being streamed from you phone via Bluetooth, the volume match the audio level of the car, rather than the audio level set by the phone.
---
Chess
You can now play chess against one of your passengers or play against four different difficulties of AI. Will you become the ultimate Tesla chess master?
---
Sketchpad Improvements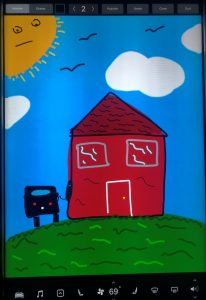 The sketchpad is an early Tesla feature and we are finally starting to see improvements. The company has added saturation and the ability to undo multiple mistakes in their latest Tesla software update.
---
Bopomofo Keyboard
If you need it, Tesla has shrunk the language barrier further by implementing the Bopomofo keyboard into their system. The Bopomofo keyboard is only available if your language is set to Traditional Chinese (Taiwan). You can change your displays language by tapping controls>display>language.
---
CHAdeMO Compatibility
CHAdeMO charging capability has officially been added to the Tesla Model 3 lineup.
---
Beach Buggy Racing 2: Tesla Edition
Beach Buggy Racing 2 is part of Tesla's upcoming batch of games. Beach Buggy Racing 2 will see you racing your Tesla through many different locales and using different power ups to achieve victory. The coolest part of the games is that you can use your actual steering wheel to steer within the car (although be careful, if you play too much you might start to wear your tires as they still move when you play the game).
---
Arcade and Toybox
Tesla has now made it easier for you to reach the easter eggs section with a dedicated Toybox button. Additionally within the easter eggs screen is a new arcade button which takes you to the Tesla Arcade game lineup.
---
Dog Mode Improvements
You can now elect to have push notifications sent to you phone every 30 minutes when the Dog Mode is enabled and the battery reaches 20% or below. Definitely a welcome feature to give you peace of mind to make sure your pet stays comfortable.
---