Welcome to our weekly Tesla news recap, where we discuss and share the latest Tesla news. If you don't have the time to constantly monitor Tesla and their ever-changing company and products, this is for you. This week, a prototype Tesla Model Y was spotted, we received some more price changes, Tesla finally completed the Maxwell acquisition, and more.
Model Y Spotted
The Tesla Model Y has already been revealed and is expected to go into production next year, possibly the following. Until then, it is no surprise that images of its prototype are starting to surface.
Typically, auto manufacturers must do some real world testing before launching a vehicle. Tesla has been spotted doing just that as well as displaying the vehicle at their factories for their employees to see.
Chargepoint, the self claimed "world's leading electric vehicle charging network" has spotted one in public.
Y don't you tell us what you think about this Tesla? ???? #TeslaSpotting #ModelY pic.twitter.com/29uko8nz7J

— ChargePoint (@ChargePointnet) May 10, 2019
It was seen followed by the same modified Model S used to film previous promotional material. It is extremely likely that Tesla is planning a new Model Y video.
---
Every Tesla Model Receives a Price Increase
Price changes have become a weekly topic for Tesla. There hasn't been a steady pricing structure for maybe a year now. This week the company increased the price of every single car by $400. This included the base $35,000 Tesla Model 3 which is available offline and in-stores.
The spontaneous changes have come to be expected but this is the first time Tesla has modified the price of their base model. Recently Tesla introduced a $399/mo lease. That option will remain the same even after this price increase.
---
Maxwell Acquisition Finalized
We first heard about this potential deal last year. It was thought to be finalized earlier but due to delays and investor lawsuits, it dragged along. This week the Maxwell acquisition has officially been finalized.
Maxwell is a well-known ultracapacitor manufacturer, which when combined with the energy of batteries,
"deliver quick bursts of energy during peak power demands, then quickly store energy and capture excess power that is otherwise lost. They efficiently complement a primary energy source in today's applications because they discharge and recharge quickly."
It is believed that Tesla is after the company's intellectual property. Maxwell has recently developed a dry battery electrode with an impressive energy storage potential. The company has previously demonstrated a >300 Wh/kg energy density and a set path to over 500 Wh/kg. This is a substantial increase over the current industry average of around 250 Wh/kg. The company also sees a cost reduction of 10-20% over current EV battery production.
This could potentially help cut costs and increase range. Solid-state batteries have been the holy grail of every electric car manufacturer and this is a step in that direction.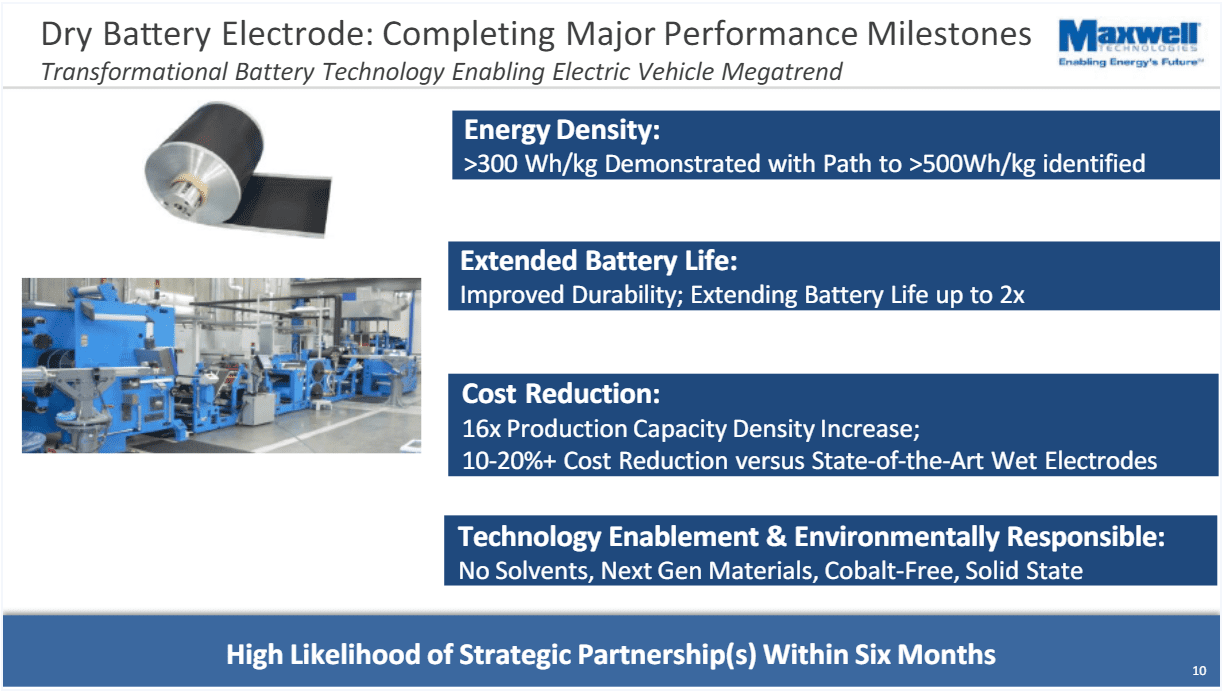 We already know the Tesla Model Y will have the same battery as the current Tesla Model 3 so this will most likely be a long term endeavor, possibly first seen in the Tesla truck or even later.
The final purchase price was an exchange all outstanding shares of common stock of Maxwell Technologies, Inc. for 0.0193 of a share of Tesla common stock for a total of just over $235 million.
---
Autopilot Capabilities Lowered in Europe
Tesla typically does take step backwards but due to new regulations, some Autopilot features in Europe have been restricted. A revision of the European Unions UN/ECE R79, the regulation for steering of driver assistance systems, has forced Tesla to comply. Model S and Model X vehicles are seeing changes take effect in the new 2019.16.1 software update.
"Due to new local regulations, the limit of how far the steering wheel can turn while Autosteer is active has been adjusted. This may reduce Autosteer's ability to complete sharp turns.

Additionally, to initiate Auto Lane Change, the turn signal must be engaged to the first detent (held partially up or down) and the lane change must start within 5 seconds of engaging the turn signal."
No word on when or if these features will return and how this new regulation will affect development.