If you've recently been considering purchasing a used or certified pre-owned (CPO) Tesla, you might want to hold off a tad bit longer. With this new KAR rumor spreading along and an influx of lease returns, used Tesla prices might just come crashing down.

Disclaimer: Although having extensive knowledge on the used car industry should in theory, give more credit towards the author, this is an opinionated post made through nothing more than speculation, experience, and publicly available data.
With the drastic increase in deliveries these last few years, there was no question that Tesla would hit a huge influx of lease returns once terms were up. Tesla has always sold their trade-ins at auction but rumor has it that used Teslas are now also being sent to KAR, owners of Manheim and Adesa auctions.
Currently, Tesla has been handling and selling all of their used Tesla inventory themselves. They take them in, certify them, and list them as inventory vehicles on their site as well as Autotrader and Cars.com.
Since 2015 Model S & X deliveries have effectively doubled, 3 year lease terms are now starting to come to an end, leaving Tesla with a stockpile of used inventory. Back in 2016, Tesla started to offer a 2 year lease option which has also added to this mess.
According to Tesla's Q3 financials, inventory has gone up 32% since last year and is now worth $3,314,127,000. A large portion of this is indeed mid transit vehicles and such but if I were a betting man, I'd say used inventory is taking up the majority.
"To manage a growing used car business, Tesla is relying on outside firms, including Manheim and Adesa KAR , according to two people familiar with the situation. These businesses help move and manage used cars, putting them through inspections, reconditioning and sales to wholesale customers."
It all makes perfect sense: with all these lease terms coming to an end, Tesla has decided they're in over their heads and need to dump these cars with the help of others such as Manheim and Adesa.
Sending lease returns to auction is actually the traditional route taken by the majority of manufacturers. These auctions are available to dealerships only and are where dealers go to fill up their used car inventories. With these changes, resell value will be an interesting topic to watch. Some, including myself, are seeing the possibility of a steep drop coming soon. But why?
Teslas have always been known to maintain an incredible value compared to the competition.

In a statement to Electrek, Alex Klein, Autolist's Vice President of Data Science, said:
"To put the depreciation in context, whereas a Tesla (Model S) will on average lose 28% of its value after being driven 50k miles, a Mercedes S-Class will lose 38%, a BMW 7-series will lose 40%, and an Audi A8 will lose 41%. As a result, Tesla owners end up with considerably more money in their pocket."
At the time of this study, the Model S was actually holding a 5% premium, meaning that on average, they were selling for 5% higher than listing price.

So why the possible decline in used prices? Unlike other manufacturers, the market doesn't decide the value of Tesla's used cars, Tesla does. The vast majority of used Teslas are owned and sold by Tesla themselves. Prices are set by them with no negotiation, so the very small private and 3rd party market follows in evaluation. With the majority of cars now being sold at auction, Tesla won't have a monopoly on used Teslas for much longer. This in turn will cause a cascading effect on pricing. Dealers will be able to lower the prices, which in term will lower the auction pricing and an overall decline in used Tesla pricing.
The thing with used Teslas specifically are their huge margins. Current CPO on a '16 Model S 70D ranges from $46,900 to $62,200 in San Diego meanwhile Manheim has them running from $39,800 to $53,100. Of course, Tesla's used inventory are certified pre-owned and come with a four year, 50,000 miles pre-owned limited warranty. But how much is that warranty worth?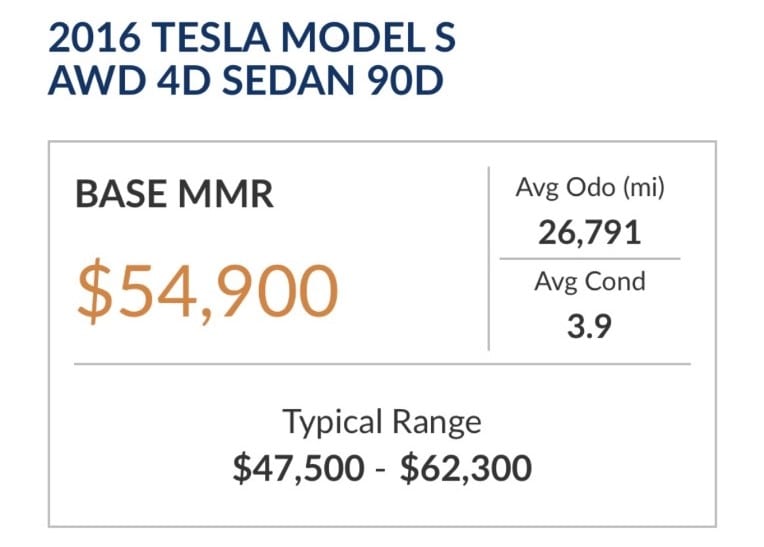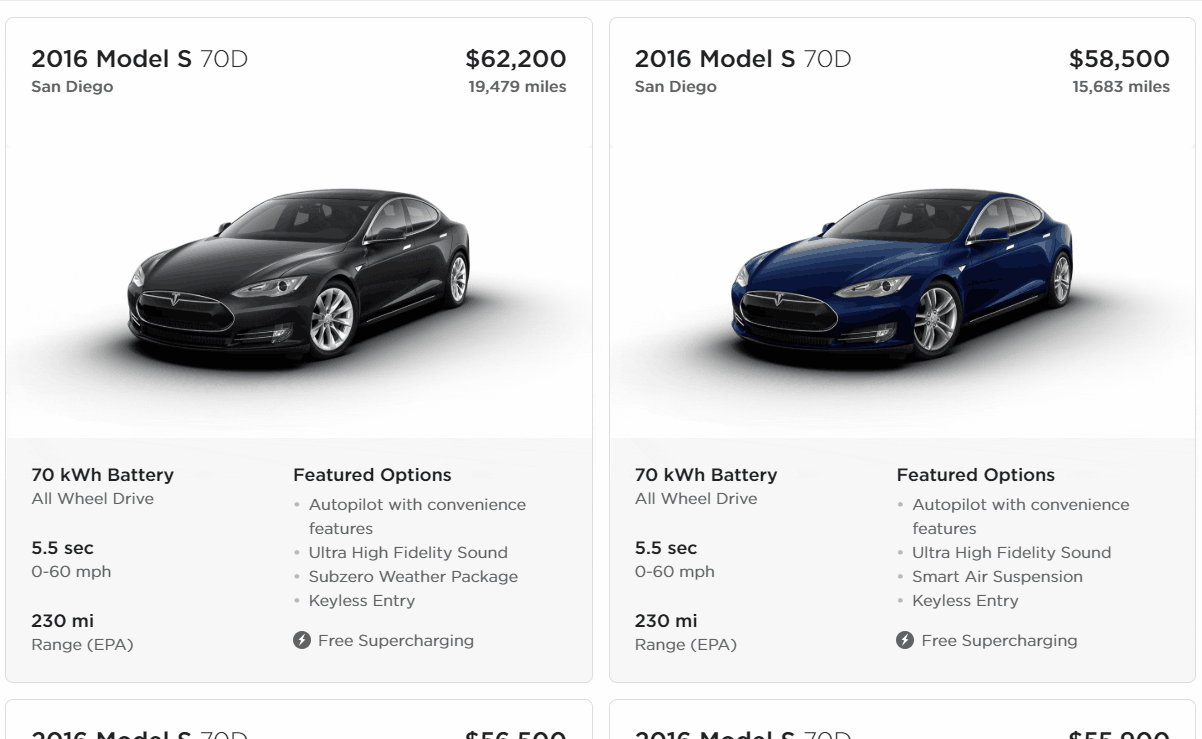 EV auction prices have always been notoriously low. The majority of dealerships don't deal with used electric cars so they don't necessarily end up in bidding wars. With more hitting the market soon, auction prices are sure to drop further. That is, of course, until more dealerships become EV ready. Once they spot these margins, they'll come flooding in but in the meantime there's a very small group of dealerships out there who are willing to get their hands on EVs.
Right now, that '16 Model S 70D will be listed right around the same pricing as CPO models. That $46,900 70D has a gross margin of 18% when sold by a 3rd party dealership! That's $7,100 in "wiggle room".
By no means is this typical. NADA, the National Automobile Dealership Association, puts the average gross of used luxury cars this year at 8.4% and I'd have to concur.
Spotting a Tesla at an auction is equivalent to seeing a unicorn in the wild. Those who deal with used EVs know what they're capable of making on them, profit wise. However, so few deal with electric cars that they are often sold for dirt cheap. Adding to that, because so few are available 3rd party, they're able to price and sell in accordance with Tesla's CPO pricing.
You'd think with the potential in profit, everyone would be on board with selling EVs but boy oh boy is the industry lagging behind. On top of the margin, Teslas also currently hold one of the fastest turn around rates in the industry with an average of only 32.4 days on the market. The only car to be beat that is of course, the Prius.
One thing to point out is that this isn't unique. The top five fastest selling cars are all EVs and EVs currently lead in average margins.
So what does this all mean? How does any of this correlate with future used Tesla prices? It's simple: current used prices are set by Tesla, the current leader in used Tesla sales. Meanwhile, the rest of the industry gets their market value based off auction sales. As the market gets flooded and competition arises, that 18% "wiggle room" will start to shrink. Right now, sticking with industry averages of a 8.4% gross margin, a '16 Tesla Model S 70D could be sold at a 3rd party dealer for as low as $43,000. Currently, the lowest 3rd party '16 Model S 70D in the US is listed at $50,000.
Could CPO prices drop? Absolutely. Those leases were done with a 60% residual and current CPO's are actually listed at slightly above the original residual value. But who's to say Tesla can't lose some money on these lease returns? Regardless, if you are not someone who doesn't care for the limited warranty that Tesla has with their certified cars, then you might score a good deal soon enough. If you are the type that likes the idea of the warranty, then I would still suggest holding off to see if Tesla tweaks their pricing accordingly. So if you're in the market for a used Tesla (CPO or not), I'd hold off for the time being.
---
Update
Current auction value on the same model referenced above sits at 16.5% lower than it was 2 months ago. The lowest priced '16 Model S 70D available in the 3rd party market is listed at $41,250, a 17.5% decrease.