At this point in our timeline, we feel that most people can acknowledge that EVs in and of themselves are a feasible mode of transportation. But their success is also dependent on an underlying support system of electric charging stations. Without enough chargers to support mass adoption, there simply won't be mass adoption. As such it's important to not only stay up to date with electric cars themselves but also to keep up with EV charging progress. Sure, the Tesla Model S Plaid+ is cool and all but did you hear about the proposal to expand the US's charging infrastructure to 500,000 chargers by 2030? To get a better understanding of the progress being made in the EV charging world, we spoke with Mark Henderson, VP of Sales and Marketing, North America at EVBox.
EVBox is just one of the few companies with a mission to supply chargers and keep up with the current and future demand for electric cars. While we in North America might think that EVBox is some new emerging company, it is in fact the opposite. The company was founded 10 years ago in the Netherlands and has been expanding throughout with chargers now in over 70 different countries. Presently they hold over 200,000 charging points with a goal of supplying one million chargers by 2023. With more than enough experience earned throughout the last decade, EVBox has considered themselves ready to tackle the North American market. Most recently they announced that they would be going public through a reverse merger with $TPGY, eventually trading as $EVB (thanks for taking our stock ticker guys).
So what is EVBox offering?
---
Chargers
Yeah, that shouldn't be much of a surprise. EVBox does not function in the same way as an Electrify America or an EVgo as they do not provide their own network. Instead, EVBox sells the actual chargers to various companies or individuals as well as providing the software for charging as well. Our conversation with Henderson did yield that the company might consider such an arrangement in the future, but they seem content with their current business strategy.
Here are some of the chargers that EVBox has available:
Iqon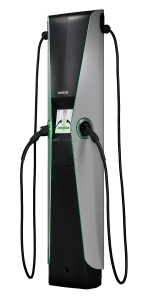 The Iqon is EVBox's newest addition to their lineup. The company has taken care to not only provide a functional charger, but also one that looks good. The charger actually won the 2019 iF Design Award, CES Innovation Award, and Red Dot Award. The thinking is simple, if streets will be dotted in chargers, you might as well make them look nice.
The unit sits as a Level 2 charger with a max power of 7.2 kW featuring two chargers that can auto-retract and auto-lock. Additionally, you will find an 8-inch screen that will handle any inputs that need to be completed. As a Level 2 charger the Iqon will mostly be found in shopping malls, parking lots, businesses, or even used in apartment EV charging. There is no splitting of power between the two chargers so if you have a neighbor charging at the same stall as you, your 7.2 kW charge power will not drop as a result.
The Iqon will be EVBox's main play in North America as their product page state's that it was specifically designed for the North American market.
BusinessLine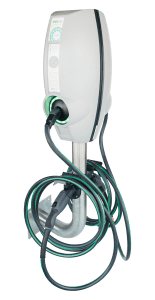 EVBox's less cool Level 2 AC charger is dubbed the BusinessLine. While not as pretty as the Iqon, the BusinessLine has been the most popular system throughout the years. It's the companies most long-standing offering and is currently on its third-generation.
The BusinessLine has a maximum charge power of 7.2 kW making it most effective in commercial parking areas where you don't plan to get in and out in a hurry. It lacks the screen that is found on the Iqon, but its smaller footprint allows it to be used in more compact areas, something that is probably a bigger issue in Europe than it is in North America.
While it's far from the most glamourous charging option it has been an important product for the company as they attempt to make EV chargers more commonplace.
Troniq 100
EVBox's offerings are not just limited to city streets. The EV charging station provider has an option for those that need to get more juice at a faster pace. The EVBox Troniq is a larger DC charger with a max power of 100 kW, perfect for rest stop locations along highways. Like the Iqon, the Troniq 100 comes with two chargers, however, they are not the same plug. EVBox is offering the Troniq 100 with one cable having the CCS1 plug and the other having a CHAdeMO plug in order to cover the needs of all customers.
Like the Iqon, the Troniq 100 has auto-retracting cables, is wheelchair compliant, and has a slightly smaller 7-inch display to deal with any interactions. Given how spaced out North America is compared to Europe, it is imperative for any company to have a fast-charging offering if they want to succeed in the US.
Ultroniq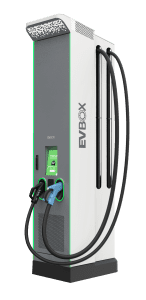 If 100 kW is not enough power (and it seems like it might not in the next few years) EVBox has the Ultroniq. This DC ultra-fast charger is a beefed-up Troniq that is capable of charge powers of up to 350 kW. It comes with a 15-inch touch screen to handle payments and is offered in both a single and double charger configuration. The single charger version features a CCS2 plug while the two charger setup adds in a CHAdeMO plug.
Given that no car can currently make full use of 350 kW charging, the Ultroniq will be limited to either future-proofing sites or for commercial vehicle purposes. The Ultroniq is not currently available for the US market but is planned to eventually make its way here.
We asked Henderson if EVBox is exploring higher power chargers, especially for commercial applications like the 1MW charger for the Tesla Semi. We were given the answer that EVBox will continue to try and move with the trend. If there is a significant amount of vehicles over the 100 kW charge power, then we should expect to see an EVBox offering to cover it.
Elvi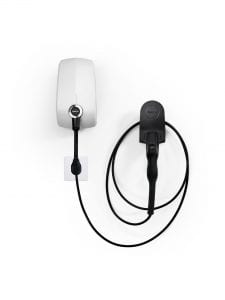 Lastly, EVBox has something for people that are able to take advantage of charging at home. The Elvi is a sleek little home charger that is able to provide a charge power of 7.2 kW. It comes with the usual Wi-Fi and Bluetooth connections so that you can monitor and adjust your charges to optimize your home charging.
Home charging is of course one of the biggest advantages when owning an electric car. When charging at home you can start every morning with a full 'tank' and not even have to worry about if there are accessible chargers at your destination.
---
Software
Expecting business owners to set up charging stations on their property is going to be an uphill battle if the management of the chargers becomes a hassle. To help combat this potential sore spot EVBox also provides software that makes the management of charging stations simple and scalable. The software is able to give all the important metrics to owners and is able to handle payments with as little headache as possible. Below you can see a short demo of the software and all of its features.
Along with management of the chargers, the software also provides a gateway towards support from EVBox if you need it as well as a place to receive firmware updates so that your chargers can remain up to date and secure.
---
Outlook
According to the US Department of Energy, the US has slightly over 40,000 Level 2 and DC charging stations in the country. On the other hand, there are over 100,000 gas stations in the country, so we still have a long way to go to provide enough chargers to support mass-market adoption.
With EVBox coming to our shores, we hope that they will be able to help make EV chargers more visible to the average consumer so that a large part of the range anxiety dealing with "where do I charge?" goes away. Being a reliable source of EV knowledge is also an important factor in EV adoption as companies will call charging providers like EVBox to help make informed decisions. Henderson tells us that they make sure that they can be that reliable source of information for any customers and has a dedicated learning center section on their site. The company seems to be very enthusiastic about the movement as they pledged to plant a tree for every charger they sell as well as being a main organizer of the REVOLUTION electric mobility conference every year.