Electrify America, who has been busy at work trying to set up fast-charging networks nationwide has released a new charger that you can install in your house, of course, you won't be pumping out 350 kW out of it like Electrify America's fast charger.
While there is nothing especially standout about the 7.6 kWh home charger, it does come at a relatively affordable price of $500 which is cheaper than some of the best selling options from Bosch, Chargepoint, and Juicebox.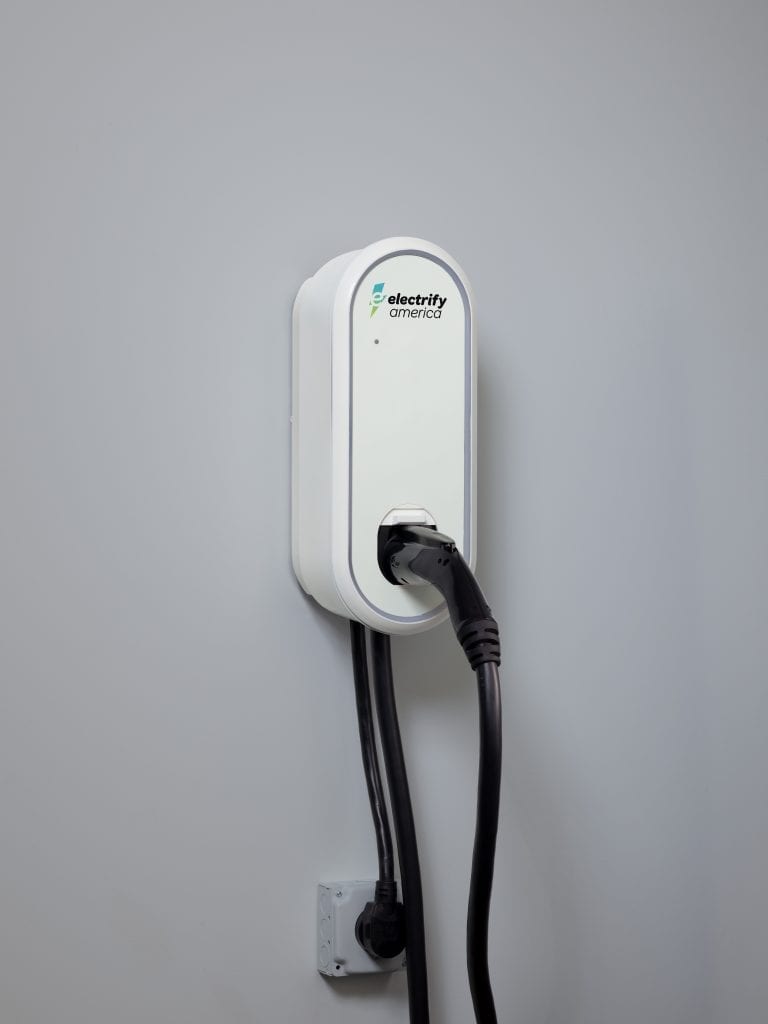 It does, however, feature Wi-Fi which is not a feature found in some of the cheaper home charging options. The Wi-Fi capability works in tandem with a mobile app that allows you to track current and past charging sessions.
Other features include:
Flexible installation options: For easy installation, the L2 home charger comes with a standard NEMA 14-50 supply power plug, compatible with the 240-volt outlets commonly found in households. The unit can also be hardwired by a licensed and qualified electrician and comes with a docking station that allows for wall-mounting.
Indoors or outdoors: The home charger is equipped with a NEMA 3R enclosure, allowing it to be mounted inside or outside. A 24-foot long cable makes it easy to reach and plug into your car.
Colored light that indicates charging status: An LED color indicator makes it easy to view charging status, with a ring around the charger that lights up blue while the car is charging and lights up green when the battery is full.
Technology of the future: The home charger is equipped with Wi-Fi connectivity, which allows Electrify America to provide customers with even more data about their home charging sessions and will enable utility demand response programs in the future.
Three-year warranty, 24-hour support: Electrify America offers a three-year warranty and 24-hour customer support.
Easy installation: Electrify America is working with Qmerit, a company that specializes in EV charger installations across the country, to deliver a seamless installation experience. Customers can first visit electrifyamerica.com/charging-at-home to complete a survey about their home's electrical capacity and installation needs, designed to streamline the in-home installation process. They will then be provided with as many as three competitive pricing quotes from pre-certified EV charging station installers in their area.
Electrify America considers releasing an affordable home charger is key to help with EV adoption which the company has been trying to help push with things like their recent ad campaign which looks to make EV ownership look more normal.
Nina Huesgen, senior manager for L2 Operations & Program Management at Electrify America, stated:
At Electrify America, we are constantly innovating to meet the diverse needs of electric vehicle drivers and are excited to expand our product offering to help advance EV adoption. We recognize that many of today's EV drivers do more than 80% of their charging at home, and with the introduction of our L2 home chargers, Electrify America is providing consumers with a more convenient and reliable option that should help increase the appeal of EV ownership.
For those that are in the market for a home charger, you can find the Electrify America charger on Amazon.