Mercedes-Benz and off-roading aren't exactly synonymous with one another, but that hasn't stopped the German automaker from pumping out a few concepts with off-roading in mind. Mercedes' 4×4² lineup has focused on changing on converting some of their tame road-going vehicles into off-road machines. The G500 4×4² and E400 All-Terrain 4×4² were the first two members of the family, with Mercedes' first electric SUV, the EQC, now having an off-road version of itself as well.
To be clear, the 4×4² family of off-road vehicles from Mercedes act no more than one-off design/engineering studies. Any concepts produced don't seem to have any legitimate chance of making their way onto the production line but instead serve as a showcase of some of the technology Mercedes has.
Markus Schäfer, Daimler Group Research and Mercedes-Benz Cars COO, described the car as follows:
"Our aim is to combine modern luxury and sustainability with emotional appeal. The EQC 4×4² shows how enjoyable sustainable mobility can be. This is where electromobility high-tech and an intriguing customer experience are transferred to the mountains, thanks to MBUX and over-the-air updates. To put it succinctly, electric, progressive luxury goes offroad. This drivable study clearly shows that alongside a passion for e-mobility, we at Mercedes-Benz lay a strong claim to leadership in this sector and will heighten the emotional appeal of this even further in the future."
For example, the EQC 4×4 has tremendous ground clearance, more than twice the height of the regular EQC and 58mm higher than the G-Class. Mercedes says that this extreme height is made possible by "conversion to portal axles: unlike conventional axles, the wheels are not at the height of the axle centre, but are instead situated much lower down on the axle hubs owing to the portal gears."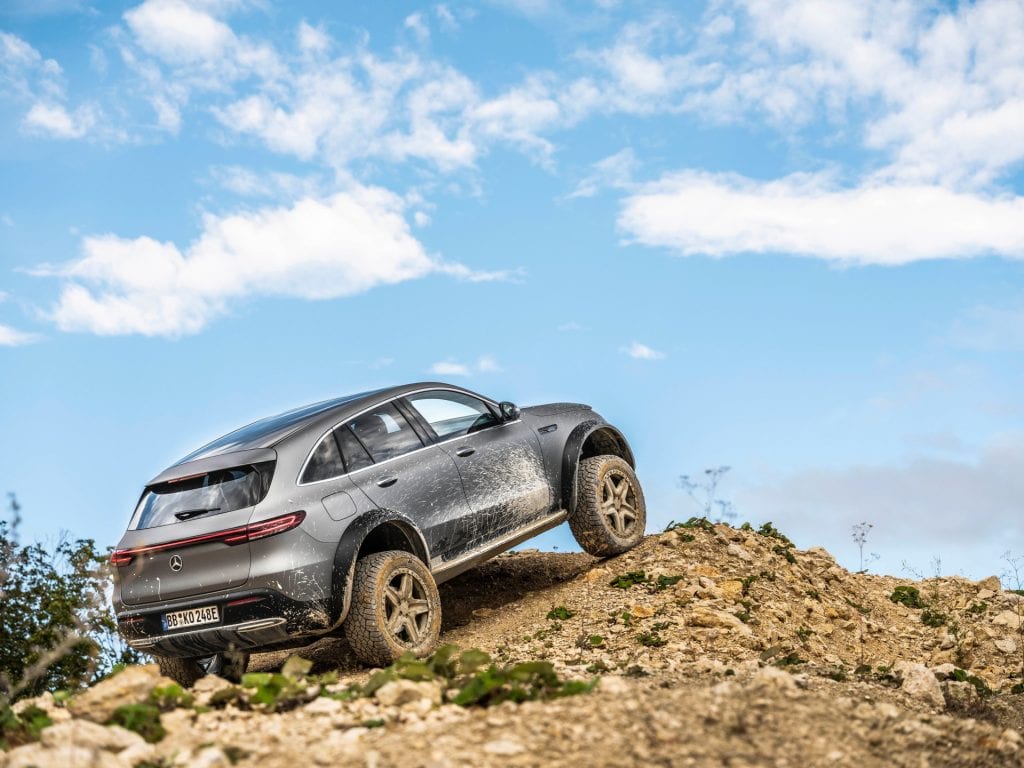 Basically any off-roading clearance specification you can think of, the EQC 4×4 beats the standard EQC easily.
| | EQC 4×4² (study) | EQC 400 4MATIC (standard) |
| --- | --- | --- |
| Approach Angle | 31.8 | 20.6 |
| Departure Angle | 33.0 | 20.0 |
| Breakover Angle | 24.2 | 11.6 |
| Ground Clearance | 293mm | 140mm |
| Fording Depth | 400mm | 250mm |
Another technology Mercedes wanted to show off aside from the portal axles was related to their Acoustic Vehicle Alert System (AVAS) which has to produce external noise at low speeds to alert pedestrians. The EQC 4×4 has a more powerful speaker than the one found in the regular EQC and has it installed in the headlamps which Mercedes has dubbed the "lampspeaker". Perhaps if nothing else we will see the lampspeaker make its production debut in some future EQ model from Mercedes.
Unfortunately, it looks unlikely that this off-road electric SUV will be making its way to production. However, with upcoming electric SUVs and pickups like the Rivian R1S and Electric Hummer being planned for production, the environmentally-conscious off-roader might actually have a few options for themselves in the future.
How do you guys feel about the EQC 4×4 and off-road EVs in general? Is there a market for them at this point? Let us know down in the comments below.
Source: Mercedes-Benz